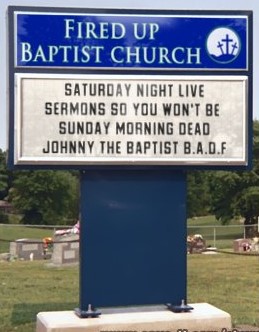 Dear fellow ministers of the Gospel,
This page is dedicated to you.
I remember years ago having a good pastor telling us young Preachers it was mandatory to be at his home for Bible teaching every saturday nite or you would never be ordained and sent out of his Church. Those saturday nite sessions taught me things about sermon building and things that I would need in the ministry this very day.
Pastor would say if a Preacher does not prepare on sat nite he would be dead on Sunday morning.
Three forths of the Preachers I talk to on saturday nite have no Idea what they will Preach Sunday morn or say we will just shout it out, it's cause they are to lazy to study and if this is you ask GOD to help you and read and listen to good men and see how it will change your Church because you have been changed on a saturday nite and ready for war Sunday morn.

Blessings,
Bro Johnny
Preachin' to Fire You Up
Handley Milby
| | |
| --- | --- |
| Brother Milby is pastor of Union Chapel Baptist Church near Greensburg, Kentucky. He has been preaching for over 50 years! | |
How To Get To Heaven From Here
I Still Live In Philadelphia
The Voice On The Shore
HOLY, HOLY, HOLY
The Doctor Is In
How To Go To Church
Where Is Your Nineveh?
1 For The Money 2 For The Show
Carry It To The Chariot
Wolves
What Do You Have In The House?
Digging In
Somebody Go Get The Lord
Alligator Alley
How To Handle A Maniac
Going After The Corn
Where Art Thou?
Where Is He When You Need Him?
How To Live In A Foreign Country
Making Decisions- Right & Wrong
Crying For The Crumbs
Are You In The Battle?
Being Like Noah
How Shall We Get Across?
Things I Learned In The Closet
The Prodigal Son
The Mule Skinner Blues
Giants In Your Life
Preaching, Plowing, & A Portion
It's A Family Matter
Which River?
Do You Have A Hole In Your Ear?
The Judgement
| | |
| --- | --- |
| Click Here to listen to great Bible Teaching on Psalm 119!! | |
| | |
| --- | --- |
| | Click below to listen to great Bible teaching! |
Dr. C. L. Roach

Memorial Library opening soon.

For the public to come and study for free and enjoy this Giant of the Faith's sermons and books.
| | |
| --- | --- |
| | I have Heard Thy Prayer |
Click Here to Read and listen to My Life Story
You will need RealPlayer to hear and see the audio and video files on this site.

Click Here For RealPlayer
(free download)

Do You Need A Dose Of TRUTH?
Take
St. Johnny's Aspirin and call God in the morning!

Johnny The Baptist
A DEPENDENT BAPTIST because the Independent Baptist have lost their minds.


Why have fire cracker revivals when you can have Dynamite!!

Are You Sure
You Want Revival

Whether your congregation is BIG or SMALL, I'll preach at 'em ALL

Book Me NOW for a REAL Revival!


The Remember When Baptist Church


LISTEN TO BROTHER BILLY KELLY'S TESTIMONY - Click Here


Born Again Devil Fighter is Brother Ed Ballew. This CLASSIC message is still one of the most important sermons available. It is about an oft neglected topic in this Laodicean age of the church. Be sure to listen to his message
entitled

Click On The Image Above
COOL JOHNNY
TRAVELING FOR JESUS

BEEP, BEEP, the Road Runner!

Remember Home missions are as important as foreign missionaries. We are holding the ropes, and strengthening our Churches here in the U.S.A.

Our ministry is to GOD'S frozen chosen.

If you're looking for a Preacher that heals the dead, casts out the sick and raises the devil, you've found him right here.

P.S. I thank the Churches and Individuals that already help me monthly in my defrosting ministry.

QUIPS AND QUOTES FROM BROTHER JOHNNY

You young preachers GO regardless of how far it is to get fed. I have been criticized driving 2 hours to my church but that is because they knew nothing about their Bible. If you read Genesis 22:4 Abraham said the place was a far off. Also in verse 4 he said it was 3 days away. Verse 5 he said we are going yonder to worship.
YOU GOT TO GET TO THE PLACE WHERE YOU CAN GET FED AND WORSHIP!

For more of Brother Johnny's
Quips and Quotes,
CLICK HERE

---

Johnny The Baptist
A DEPENDENT BAPTIST:

He's the fastest growing evangelist on the Internet. He has gone from 198 to 212 pounds in just two Camp Meetings!

He's definitely scriptural - Proverbs 28:25 "...but he that trusteth in the LORD shall be made fat."




Pray about supporting this ministry on a monthly basis. We have made it easy for you to donate to this ministry. Just click on the "PayPal" button to have funds securely withdrawn from a bank account or credit card. Registration is easy.

Pastors, you support foreign ministries when there is so much to do right here in the United States. Please consider giving to support this local ministry.